We have a strong sense of community
We have a strong sense of community
We have a strong sense of community
No single text of the Bible can contradict the general truth of the Bible.
What is the general truth of the Bible?
God is one, alone in creation, there is no other deity beside Him.
There are over 10,000 Bible texts that either implicitly or explicitly declare the absolute, solitary Oneness of God.
declare that God is a solitary one by the use of singular pronouns, verbs, and adjectives when referring to God Almighty.
clearly state that God is One and alone in His reign.
Verses that are difficult to understand must be interpreted in the light of those verses more easily understood.
There are less than 10 verses in the Bible that are misunderstood because they are not properly interpreted.
The verses above can be difficult understand if approached without a firm understanding of God's personality a presented in the rest of the Bible.
A. Externally...to others
Does the Bible contradict itself?
If the Bible cannot, and does not contradict itself, we must interpret these verses by looking at verses which are more easily understood. We must look at the 10,000 verses that declare the simple truth of God's Oneness to help us gain an understanding of the fewer difficult verses.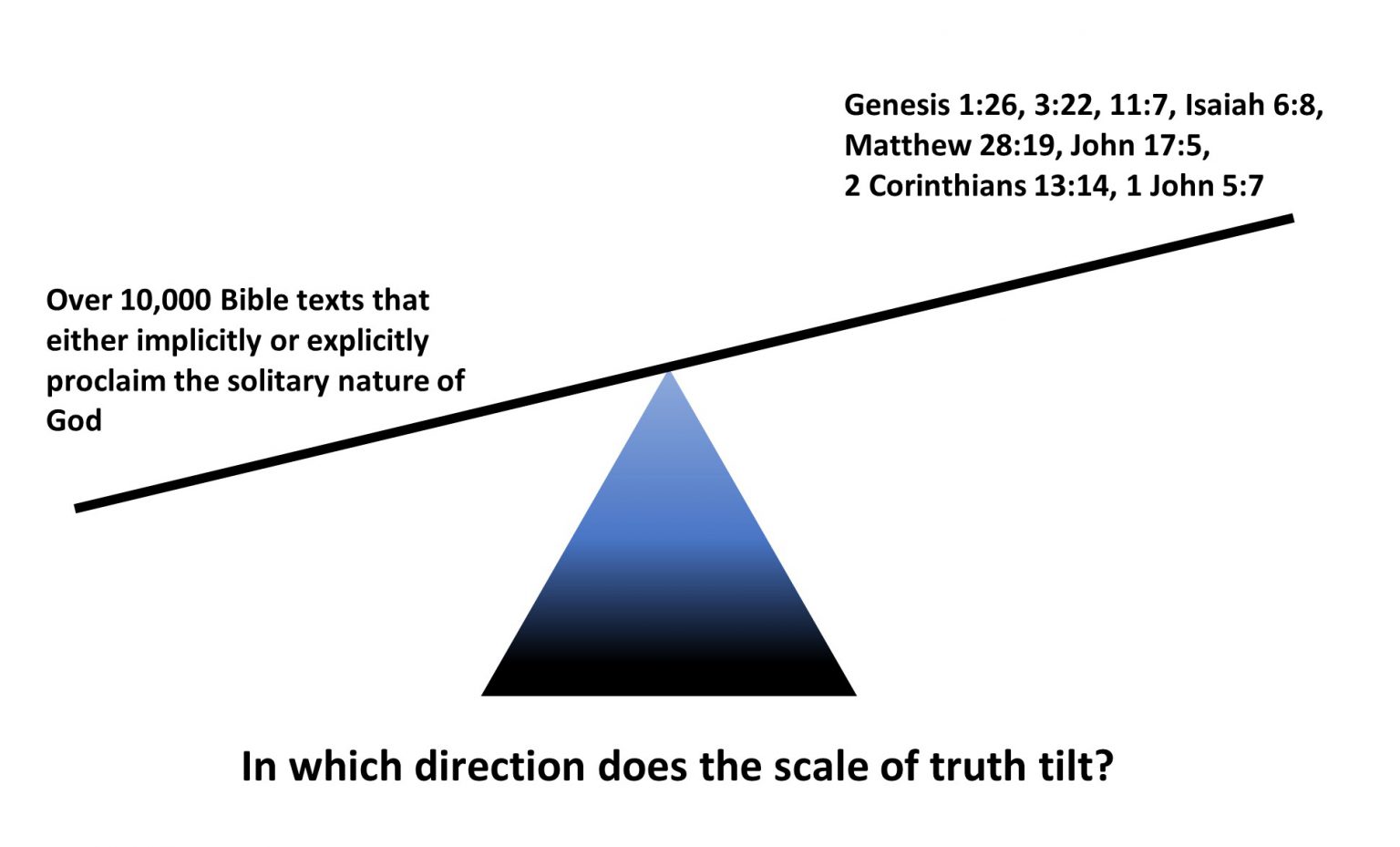 If God was speaking to others this would mean that others were involved in creation…..Is this possible? No, the Bible states clearly that he was alone in creation.
B. Internally….to yourself. Could God have been speaking to Himself?
There are two examples presented in the Bible that God could have used in speaking internally.
1. He could have used the Plural of majesty…Ezra 4:18…. which is a way that kings, heads of state and other monarch use.(See Elohim for information on Plural of Majesty.)
A King making a speech to his subjects could say,"When we came to speak to you today…."
B. Internally….to yourself. Could God have been speaking to Himself?
2. The second way that God could have spoken internally is by using the Plural of deliberation….Ephesians 1:11……God deliberating within His own will.
How do we know?
We don't…God didn't clarify his statements.
He said He was Alone.
"Engaging God's world through faith"
For I am convinced that neither angels nor demons, neither death nor life, neither the present nor the future, nor anything else in all creation, will be able to separate us from the love of God.
Sermons Helps to Growing Your Faith